JUST SOLD IN GOLDEN BEACH!
Sold for $2,100,000 By William McClain
This amazing one story home with 5 bed/5.5baths + a loft, pool and 3 car garage, built on an oversize 17,300 sqft lot. One of the best deals in the area and an amazing opportunity to own and live in the prestigious and desirable Town of Golden Beach. This quaint 1 mile family-lifestyle ocean front community with just 400 single family homes features a private beach for residents only, 9 beautiful parks, fantastic tennis courts and its own police force, surrounded by water, to the east by the Atlantic ocean and to the west by the intracoastal waterways!
---
DID YOU KNOW: Golden Beach is One of the most affluent municipalities in South Florida- second only to Indian Creek Island?
Golden Beach has always attracted the rich and famous, including Ricky Martin, Sammy Sosa, Tommy Hilfiger, and Richard Wurman, creator of Ted Talks. Eric Clapton named his album "461 Ocean Boulevard" after his former Golden Beach vacation home.
Today, Golden Beach is one of the most affluent municipalities in South Florida. Made up entirely of single-family residences, the town has some of the highest home values in Miami-Dade. (It's second only to Indian Creek, one of the wealthiest enclaves in the entire nation.)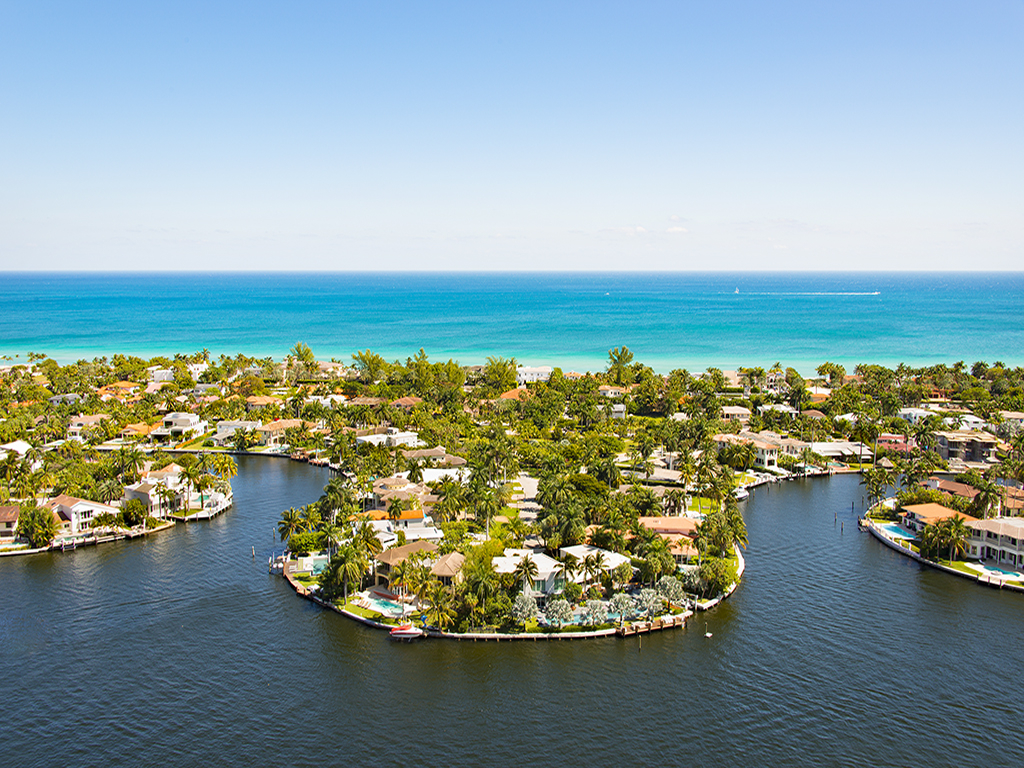 ---
More About Golden Beach: Since its incorporation in 1929, Golden Beach real estate has become one of the most desirable places to live in South Florida. This small quiet community has maintained its family lifestyle in a mile-long sanctuary of 400 single-family homes that are mostly located on the Intracoastal Waterway and it's intersecting canals or directly on the Atlantic Ocean.
The Town Charter protects the Town from commercial activity of any kind and forbids the construction of high rise condominiums that saturate so many water front homes in South Florida. A beautiful mile and one-eighth of private beach with a historic beach Pavilion, 3 parks, and a committed sense of community have attracted talented, discerning residents from all over the world to this idyllic town located only 18 miles from Miami International Airport and 15 miles from Ft. Lauderdale International Airport and Port Everglades.
THINKING OF SELLING? Find out how much your Golden Beach home is worth today! Click here to get your free report
I have other buyers looking to purchase in Golden Beach so if you're considering selling- please call or email me so we can discuss!
WIlliam B. McClain, PA
CERTIFIED LUXURY HOME MARKETING SPECIALIST®
MILLION DOLLAR GUILD®
Mobile: 786-234-3673